STEM Ambassadors supporting schools and colleges
As a school or college you can book a STEM Ambassador to come into your classroom, either face-to-face or virtually, free of charge. 
STEM Ambassadors make an impact by: 

Supporting learning: help young people to understand the real world applications of their learning

Illuminating careers: showcase different roles and pathways into industry, raising awareness of important skills in the workplace.



Raising aspirations: help young people meet a wide range of inspiring role models, encouraging them to think about their future.
STEM Ambassadors in action
Bring a STEM Ambassador into your primary school

Bring a STEM Ambassador into your secondary school

Bring a STEM Ambassador into your college
How it works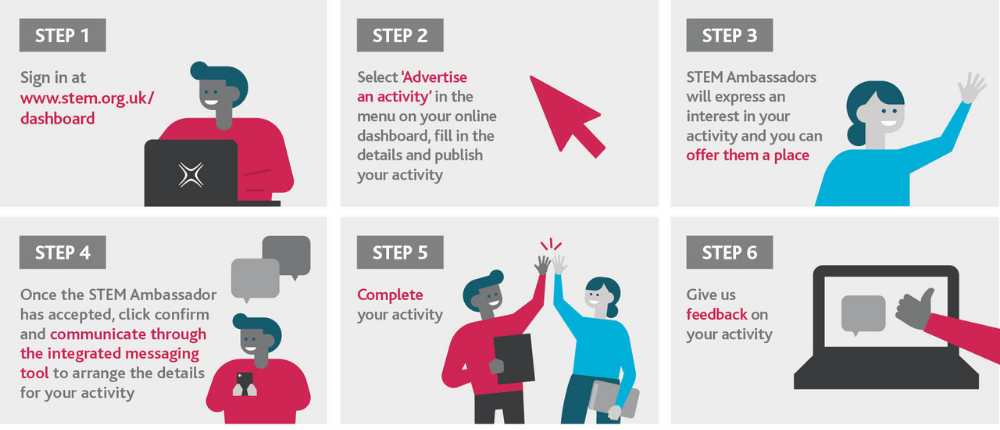 Sign in
to your dashboard or
create an account
now. You can also use the STEM Teacher app to manage your activity requests. 

It challenges stereotypes, instills a more 'can-do' attitude for STEM subjects and now they think 'why not me?'
Headteacher, Manchester

It's really powerful for young people to see somebody in front of them; to see a pathway
Head of Programmes, UK Youth

The sessions really reignited the staff's enthusiasm for our subject
Head of Science, South Tyneside
Benefits of using STEM Ambassadors in your classroom

Increased engagement in STEM 

Increased awareness on the importance of STEM 

Increased understanding of STEM subjects

Increased understanding of why STEM subjects are important in the workplace

Increased aspiration and knowledge of STEM careers 
STEM Ambassador handbook
More details about how STEM Ambassadors can support you are in our
Teacher handbook.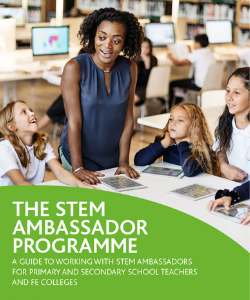 ---
Ideas for using STEM Ambassadors in schools
This collection of activity ideas features tried and tested STEM Ambassador activities and gives you templates to use when requesting a STEM Ambassador.
---
Quantum Ambassadors programme
The Quantum Ambassador Programme helps teachers lead quantum physics activities in the classroom, with the support of STEM Ambassadors. You'll be able to take students from the first quantum revolution (lasers, MRI scanners, GPS and semiconductors) up to the present day and into the future.
---
Get in touch
If you still have a question about STEM Ambassadors and the activities they can support you with, we have a network of local STEM Ambassador Hubs that coordinate the volunteering opportunities and can offer you a range of support.
 
Find your local hub details here
---
STEM Ambassadors on screen
STEM Ambassadors from across the UK share their STEM at Home videos. Find out all about equipment they use in their jobs, how things work at home and watch interviews with real STEM Ambassadors.
 
Microscopes: PhD student and STEM Ambassador Amanda tells us about her favourite piece of equipment
 
Joel interviews his mum, and STEM Ambassador, Louise about her job as an aircraft engineer
 
STEM Ambassador Becky shows us how to extract DNA from a strawberry using items found in the kitchen