Employers engaging in the STEM Ambassador programme
STEM Ambassadors help employers connect with young people, inspiring them to become the next generation of STEM professionals. Through outreach programmes in schools, colleges and out-of-school groups, your support can help grow the UK's workforce with talented and passionate individuals. Our network of 37,000 STEM Ambassadors, from 7,000 employers, volunteer over 640,000 hours a year to make this happen. 
The STEM Ambassador programme is designed flexibly, offering you to set a level of involvement which meets your needs, and the opportunity for your employees to volunteer in a variety of ways.  
Whether you are just starting your outreach journey or already delivering activities in schools and the community, why not join us? We can make a bigger difference together. 
 
Benefits for the community
STEM Ambassadors make a powerful impact on the lives of young people by:

Supporting learning – demonstrating how the subject knowledge, skills and behaviours they learn in the classroom are important for the workplace.

Illuminating careers – sharing their journey and experience to promote your sector, raising your profile in the community, and supporting your recruitment efforts.



Raising aspirations – showing young people future opportunities available to them, and empowering them to achieve their potential regardless of their background through inspiring and diverse role models.
Ways you can get involved
Employers can offer valuable input to the programme by:
 

Making it a core part of your Corporate Social Responsibility and training strategies 

Encouraging your employees to sign up and allowing them time off for volunteering 

Working with us to create resources and activities for the education industry 
Benefits for employers

Impact on Corporate Social Responsibility

More motivated employees

Increased communication and presentation skills

Improved local recruitment 

Positive brand awareness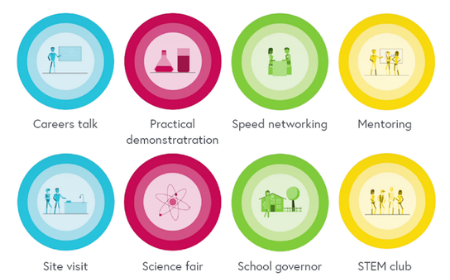 How it works
The STEM Ambassador programme is designed flexibly to suit the needs of all organisations, large or small. Set the level of engagement that's right for you, and alter that to meet your needs as they change. 
STEM Ambassadors manage their volunteering via an online platform connected to the STEM Learning website or through the STEM Ambassador app. This allows them to easily find relevant, local opportunities and quickly make arrangements with teachers or community group leaders. Volunteering activity is completely flexible and can be delivered both face-to-face or virtually.  
Ambassadors log all their activities on their STEM Ambassador profile and are recognised for their volunteering through our STEM Certificates and STEM Inspiration Awards.
 
Support for you

Guidance from our STEM Ambassador Hubs to help you embed the programme and achieve your intended outcomes. 

Online STEM Ambassador induction to prepare STEM Ambassadors for their role and get them started. 

Safeguarding training and health and safety guidance for all STEM Ambassadors. 

Links to a range of online training resources through the training and support section of the STEM Ambassador website. 

Insurance cover - under our policy - for STEM Ambassadors whilst undertaking activities.  

A purpose-built employer reporting system which can be added to your STEM Ambassador account. 
Getting started
Your
local STEM Ambassador Hub
can support you with anything related to the programme and involve you in local initiatives. For further detailed information about the STEM Ambassador programme, please read our
Employer Handbook
.