Secondary mathematics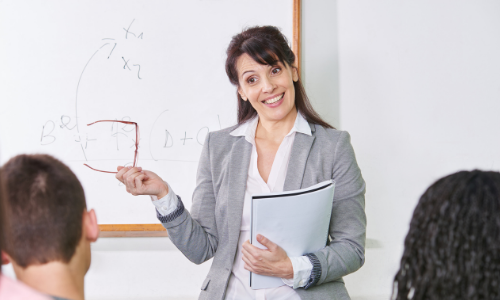 Welcome to the secondary mathematics homepage. Here you'll find a range of support to help inspire your teaching. We share your dedication to raising young people's engagement and achievement in mathematics.  
Find what you're looking for:

Resources

CPD courses

Enrichment

STEM Community

Education recovery
---
Resource collections
Our website is home to thousands of freely available, quality teaching resources. Our most popular resources collections include:
 
Our resource collection contains a wealth of proven teaching ideas and activities, providing useful starting points when planning lessons. You can find a selection of hand-picked resources covering Key Stage 3 and Key Stage 4, A level and Core Maths programmes of study.
 
---
CPD courses

Professional development is important at every stage of your career. We specialise in supporting mathematics in all STEM subjects, especially science. We design and deliver mathematics subject knowledge courses for teachers of science. In addition we support mathematics and science departments to work together.
 
Intensive courses
STEM Learning runs a well-established and successful face-to-face continuing professional development (CPD) programme at the National STEM Learning Centre in York.
 

Subsidies
We are delighted to offer subsidies to state-funded schools (including MATs) to support intensive, residential CPD at the National STEM Learning Centre in York. A subsidy could cover your course fee, travel, accommodation, food, cover to help teachers participate in CPD and equipment for your school. Subsidies are available for the courses listed above.  

Bespoke CPD
Our bespoke courses are developed by experienced subject experts and cover a range of topics. If you are interested in manipulatives, embedding problem solving, reasoning or building resilience, or looking to support NQTs, non-specialist mathematics teachers or new and aspiring leaders of mathematics- we have a wealth of experience delivering impactful continuing professional development.
If you are interested in working with us, 
get in touch
.
Online courses
Our
Understanding Maths for Teachers
 programme is a collection of self-paced, online courses that allow you to learn wherever and whenever suits you. You'll access real classroom footage, discuss lessons with colleagues from around the world, and learn from leading experts and classroom practitioners. 
Enrichment
STEM Ambassadors
STEM Ambassadors are volunteers from a wide range of science, technology, engineering and mathematics (STEM) related jobs and disciplines across the UK. We work with over 30,000 STEM Ambassadors from more than 2,500 different employers. 
STEM Ambassadors are an important and exciting free of charge resource for teachers, both inside and away from the classroom. By bringing a STEM Ambassador into your classroom, you can play an essential role in engaging young people in STEM subjects and careers at a young age. We have made it really simple to get involved and find an Ambassador to support you. 
Find out more



Bringing a STEM Ambassador into your secondary school
STEM Clubs
STEM Clubs are out-of-timetable sessions that enrich and broaden the curriculum, giving young people the chance to explore STEM subjects in less formal settings. Clubs are an important outlet to ignite new interest and to raise attainment through more imaginative and inventive teaching methods.
Careers support
Contextualising mathematics within real world contexts and embedding careers into your students' learning is valuable for a number of reasons. It helps them understand the importance, value and transferability of STEM subjects, develop the employability skills needed to be successful in maths and raises awareness of the wide range of roles available within STEM roles utilising mathematics.
 
---
STEM Community
STEM Community is 
a place to share ideas and find support within the teaching of STEM subjects. Prompting thought about aspects of teaching practice, discussion and an opportunity to engage with both peers across the country and our own subject experts, it provides a helpful and supportive area for teachers.
It's free to join. It uses the same login details as your STEM Learning website account if you already have one. If not, it's quick and easy to 
register
.  

---
Education recovery in mathematics
A curated collection to help you to support students' education recovery – including our own resources and those of partner organisations who are also supporting the recovery programme.
Research recommends that schools work on issues such as assessment and feedback, transition and one-to-one/small group tuition- the most effective ingredient for this is great teaching. Our support is built on our view that learning mathematics is far more successful if learners are actively engaged, encouraged to think mathematically and to see links and connections.