STEM Ambassadors supporting community groups
As a community or youth group, you can book a STEM Ambassador to engage with young people, either face-to-face or virtually, free of charge. 
STEM Ambassadors volunteer their time to inspire young people to progress further in STEM subjects and demonstrate their value in life and careers. They deliver a range of activities such as career talks, mentoring, practical workshops and exhibitions.
This year, STEM Ambassadors have responded to the challenges that COVID-19 has presented by volunteering remotely through:

'Discover STEM'
, videos covering curriculum related topics and careers 

Career activities which highlight how STEM subjects are used in the world of work

Offering
online activities
you can access via video call

Enrichment activities – from supporting STEM Clubs to mentoring projects 
How it works
STEM Ambassador handbook
More details about STEM Ambassadors and how they can support you can be found in our
STEM Ambassador handbook.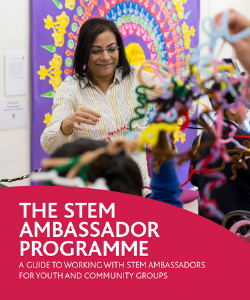 Benefits of using STEM Ambassadors

Increased engagement in STEM 

Increased awareness on the importance of STEM 

Increased understanding of STEM subjects

Increased understanding of why STEM subjects are important in the workplace 

It has been great to watch, and see girls become so engaged and fascinated by science.
Guide Leader, Girl Guides International Camp

Ambassadors introduce children to a world of science beyond the school gates and make it fun.
Children's worker, Glasgow

It's really powerful for young people to see somebody in front of them; to see a pathway.
Head of Programmes, UK Youth

STEM Ambassadors inspire the girls into under-represented STEM subjects.
Teaching and learning coach, Harwich and Essex
Get in touch
If you still have a question about STEM Ambassadors and the activities they can support you with, we have a network of local STEM Ambassador Hubs that coordinate the volunteering opportunities and can offer you a range of support.
 
Find your local hub details here
---
STEM Ambassadors on screen
STEM Ambassadors from across the UK share their STEM at Home videos. Find out all about equipment they use in their jobs, how things work at home and watch interviews with real STEM Ambassadors.
 
Microscopes: PhD student and STEM Ambassador Amanda tells us about her favourite piece of equipment
 
Joel interviews his mum, and STEM Ambassador, Louise about her job as an aircraft engineer
 
STEM Ambassador Becky shows us how to extract DNA from a strawberry using items found in the kitchen